Network & Printer Stand
Physical accessibility was the driving force behind this project. This is for a home office where everything needs to be close to desk height, with all equipment serviceable and reachable to a seated user - with no need to stand, stoop, or move in order to look at all network and printer related equipment.
The key elements are:
Front, side and rear access to an "all-in-one" printer, with no lifting required
Network equipment (DSL Modem, Firewall/Router, Switch) instantly accessible, but out of the way
Room for desktop telephone
Room for a standard fax machine or other desktop appliance.
As with many projects where the final solution is not clear at inception, this was organized by examining the work environment, and taking measurements of all pieces of equipment. The two that posed the primary requirements were the fax machine and the all-in-one printer (seen below as cardboard mockups).
The solution to the problem of printer access, but not overbuilding was two-fold. The all-in-one printer was to be placed on a section of desktop which could rotate outwards when access to the side or rear was needed. For the fax machine, a simple fold-out tabletop/shelf was included. The support brackets for the fax machine shelf do not require reaching underneath to latch or unlatch - simply lifting the shelf will lock it, and lifting it again will allow it to fold down.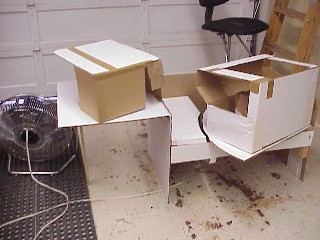 .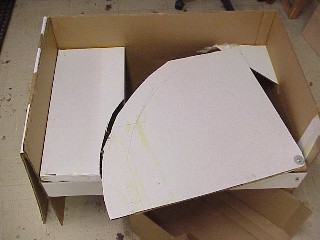 The two photograph below left shows the gluing clamp-up for the veneer edging of one piece,The one on the right is a close up of the dry-fit all finished components so far.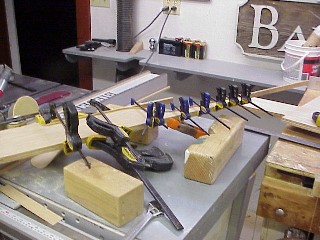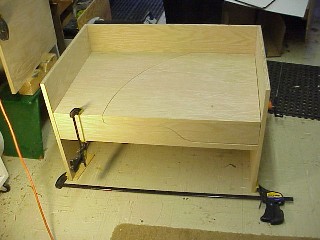 The photo below left shows a close-up of the T-Nuts embedded in the platform arm. The two on the top have already been covered with veneer to render them invisible when finished. The lower right shows the cable track being installed on the equipment drawer so that the cables cannot tangle or move - other than exactly as intended.